Meet Dr. Victoria Koenig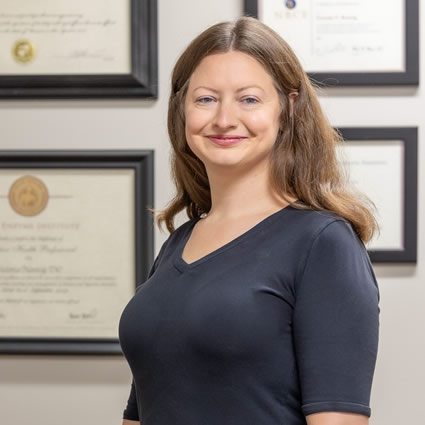 Dr. Victoria Koenig wasn't drawn to chiropractic initially. She graduated from college with a degree in Communications and held a variety of positions while looking for the right fit. One morning, she woke up unable to turn her neck. She went to see the local chiropractor and got adjusted. When she left the office, she was amazed to feel about 70% better, and completely normal later that same day.
An Education in Chiropractic and More
Dr. Victoria always had it in her heart to help others. After looking into it further, she decided chiropractic was the right choice for her. She had to enroll in the local community college because she had not taken the courses needed to attend chiropractic school. It was a lot of work, but she had the passion to succeed.
After finishing at the community college, Dr. Victoria enrolled at Logan University College of Chiropractic and graduated in 2018. She has been working at this location since that time.
Dr. Victoria is a Licensed Acupuncturist and has taken nutrition courses at the Food Enzyme Institute. She also provides custom orthotics where indicated.
Helping People Naturally
While at Logan, Dr. Victoria was fascinated by the fact chiropractic could help people without medicine. She especially enjoys working with families. Helping people get better and feel better naturally is what she loves to do.
She always thought chiropractic was great, but seeing the daily "miracles" is amazing. To see people who had no hope left get better on a constant basis is so gratifying. Teaching them how to stay better by bringing in the diet and food enzyme component is very important to her.
EXPLORE CHIROPRACTIC
Outside the Practice
Dr. Victoria enjoys playing with and spoiling her seven nieces. She also enjoys hiking, traveling and meeting new people. She stays active with tennis and bowling, and loves to watch a good movie.
Ready to Book Your Visit?
Experience the benefits of better health with a more natural approach through chiropractic care. Contact us today to schedule an appointment at Victoria Koenig, D.C.'s office.
---
Dr. Victoria Koenig | (630) 964-7660